Contemporary Art Matters is pleased to present Taking Interest: Summer in the City, an online group exhibition featuring new works by Erika Hess, Daina Higgins, Heather Jones, Dion Johnson, Lisa McLymont, Amy Sacksteder, Laura Sanders, Jared Thorne, and Almond Zigmund. For more information on the exhibition, related events please contact us at [email protected].
Taking Interest: Summer in the City is an online exhibition of Contemporary Art Matters artists who are in residence in NYC this summer making connections, promoting their art and taking inspiration from city.
Almond Zigmund, Blue Plane, Orange Stripe, 2020, Acrylic on wood panel, 28×17 inches
Almond Zigmund (born 1971, lives and works in East Hampton, NY ) – Originally from Brooklyn, Zigmund received her Bachelors of Fine Arts from Parsons School of Design, and studied both in New York and Paris, France. She earned her Masters of Fine Arts from the University of Nevada, Las Vegas, where she studied art theory and criticism with Dave Hickey. This formative time, outside the New York art world, with the maverick, Macarthur award winning critic Hickey, encouraged her to push her boundaries, follow her own path and make smart, cool stuff.
Zigmund's work has been exhibited internationally with shows in New York, Los Angeles, Zurich, Las Vegas and Columbus. Her work has been selected for shows by leading and emerging curators including: Dave Hickey, Robert Storr, David Pagel, Heather Harmon, Jessica Frost, Aaron Baker, Steven Criqui, among others.
Erika Hess, Connected, 2021, Oil on panel, 24×30 inches
Erika b Hess (born 1982, lives and works in Gahanna, Ohio) – Erika b Hess is a painter recognized for her use and interest in color. Her work has been exhibited nationally including Prince Street Gallery in NYC, Last Projects in Los Angles, CA, and Boston Center for the Arts in Boston, MA. In 2017, she had two solo exhibitions, "The Line Between the Past and the Present," at Musa Collective, Allston MA and "Viewing Light," at Newton Free Library, Newton, MA. Her work has been featured in various publications including, Poets and Artists, Fresh Paint, Charles River Journal and Post Industrial Complex, a book released by the Museum of Contemporary Art Detroit. Her work was selected by John Seed to be featured in, "Fifty Memorable Artists 2015". She has served on panels such as Cleveland Institute of Art's, "Feminism Now: Exposing the Truth", Boston University's, "Creative Capital: Building Collaborative Art Space" and was a visiting juror for Dayton Visual Art Center's 2016-2018 biennial. She created the podcast, I Like Your Work and is a co-founder of MUSA Collective, an artist-run collective in Boston. She received her MFA from Boston University.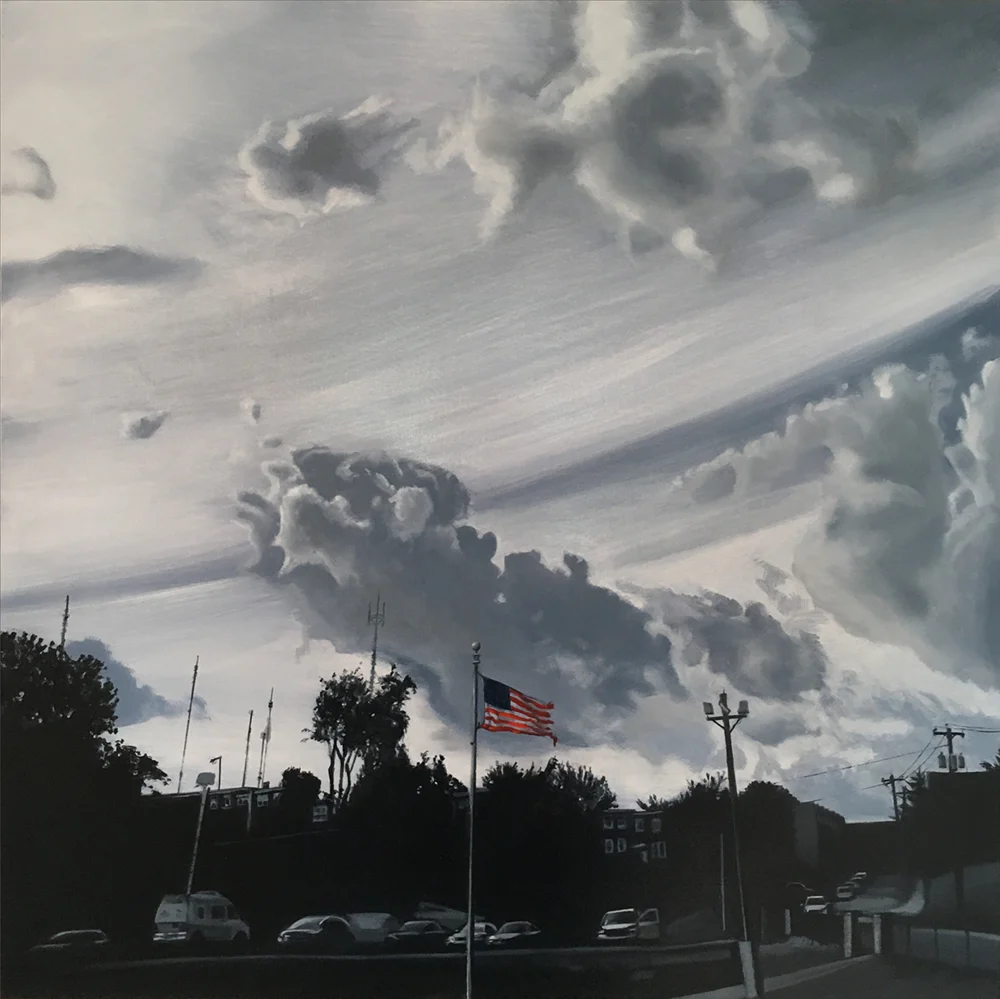 Daina Higgins, Dark Cloud, 2021, Oil on Panel, 20×20 inches
Daina Higgins (born 1979, lives and works in Philadelphia, Pennsylvania) – Originally from Columbus where she graduated from the Fort Hayes High School. She attended pre-college programs at The Ohio State University, The School of the Art Institute of Chicago and the Pratt Institute, before going to the School of Visual Arts in New York, where she received her BFA in 2001, followed by an MFA from the Queens College CUNY in 2009. Her works have been exhibited in galleries and museums around the country including Rebecca Ibel Gallery, Elizabeth Harris Gallery, The Pizzuti Collection, The Queens Museum of Art and the Woodmere Art Museum in Philadelphia. She was recently awarded an Elizabeth Greenshields Foundation Grant in 2021 (also received in 2019) and was the beneficiary of a Joan Mitchell Foundation MFA grant and the Silas H. Rhodes Merit Scholarship.